During the renovation of bathrooms, a lot of things require the consideration of homeowners and material for the shower walls is a prime example. Nowadays, shower walls incorporate various materials but tile and cultured marble don't have many competitors in terms of prominence. Able to adapt to a wide range of settings, both materials excel at blending in. Still, not everyone shares the same set of preferences so the topic of cultured marble shower walls vs. tile shower walls attracts conflicting opinions.
Breakdowns Of The Materials
Cannot make up your mind between tile and cultured marble as you renovate your bathroom? In that case, you have come to the right place. This article is going to tell you everything that you must know about both materials to make a wise decision.
Tile And Cultured Marble: Insights 
Tile: Introduced in all shapes and sizes, tile is capable of matching a multitude of bathrooms in modern residences. Depending on the situation, homeowners could also customize the tiles of bathroom showers in a blink of an eye. Therefore, adapting shower tiles is by all accounts a simple affair that involves minimal amounts of time and effort. Lastly, tiles reach the market across price points which is why people have a number of options regardless of their shopping budget.
Cultured Marble: For your information, cultured marble consists of a mixture of particles and resins that get covered in gels to help it set in. Afterward, cultured marble would be polished to give it the luxe look that increases the aesthetic values of the bathroom. The installation of cultured marble is straightforward so people don't have to do much to set it up. Moreover, following installation, cultured marble only needs a bit of maintenance to stay in top shape.
Pluses And Minuses Of The Materials 
Tile
Advantages 
Versatility: Today's homeowners could pick up tiles of variable measurements with relative ease by visiting home improvement stores. In addition to that, it's possible to cut the tiles to ensure optimal fitness for specific shower configurations.
Cost: Some tiles cost more than others but people rarely have to recalculate expenses to squeeze shower tiles into the spending plan. Needless to say, cost-conscious homeowners tend to hold tiles in high esteem.
Maintenance: It's easy to clean tiles so keeping tile shower walls in top shape is a piece of cake in most of the cases. Homeowners have to be thorough as they clean certain tiles such as glass, marble, … to minimize the odds of them becoming scratched.
Disadvantages 
Chipping: While tiles don't get damaged easily, chipping remains an ever-present threat to tile shower walls. When chipped, tiles require repair/replacement as soon as possible so they don't cause issues to the showers.
Leakage: Over time, the grouts that hold tiles of shower walls in place may break down which eventually leads to leakage. That is why homeowners must regrout tile shower walls from time to time to protect their bathrooms from water damages.
Cultured Marble
Advantages 
Variety: Since manufacturers nowadays offer cultured marble in all sorts of designs, homeowners have an easy time creating particular themes for walls of bathroom showers. That is a big plus if you care about the level of freedom available to you during bathroom renovations.
Aesthetics: The stylish appearance of cultured marble could improve the look of plain bathrooms without costing homeowners an arm and a leg. In the case that cultured marble shower walls become stained, a combination of sponge and water is enough to bring them back to normal.
Installation: Owing to the brief setup process of cultured marble, people never have to wait long for their cultured marble shower walls to be ready. Unsurprisingly, those who have busy schedules deem cultured marble shower walls to be winners in cultured marble shower walls vs. tile shower walls.
Disadvantages 
Scratch: It won't take much to scratch cultured marble shower walls so its maintenance requires special attention from homeowners. It's a good idea to avoid abrasive cleaning solutions if you elect to use cultured marble for the walls of your shower.
Visibility: Cultured marble is aesthetically pleasing but even the most minor damages would hurt the appearance of cultured marble shower walls. As a result, once it comes to using cultured marble for walls of showers, homeowners need to think it through.
How To Choose Between Tile And Cultured Marble: Suggestions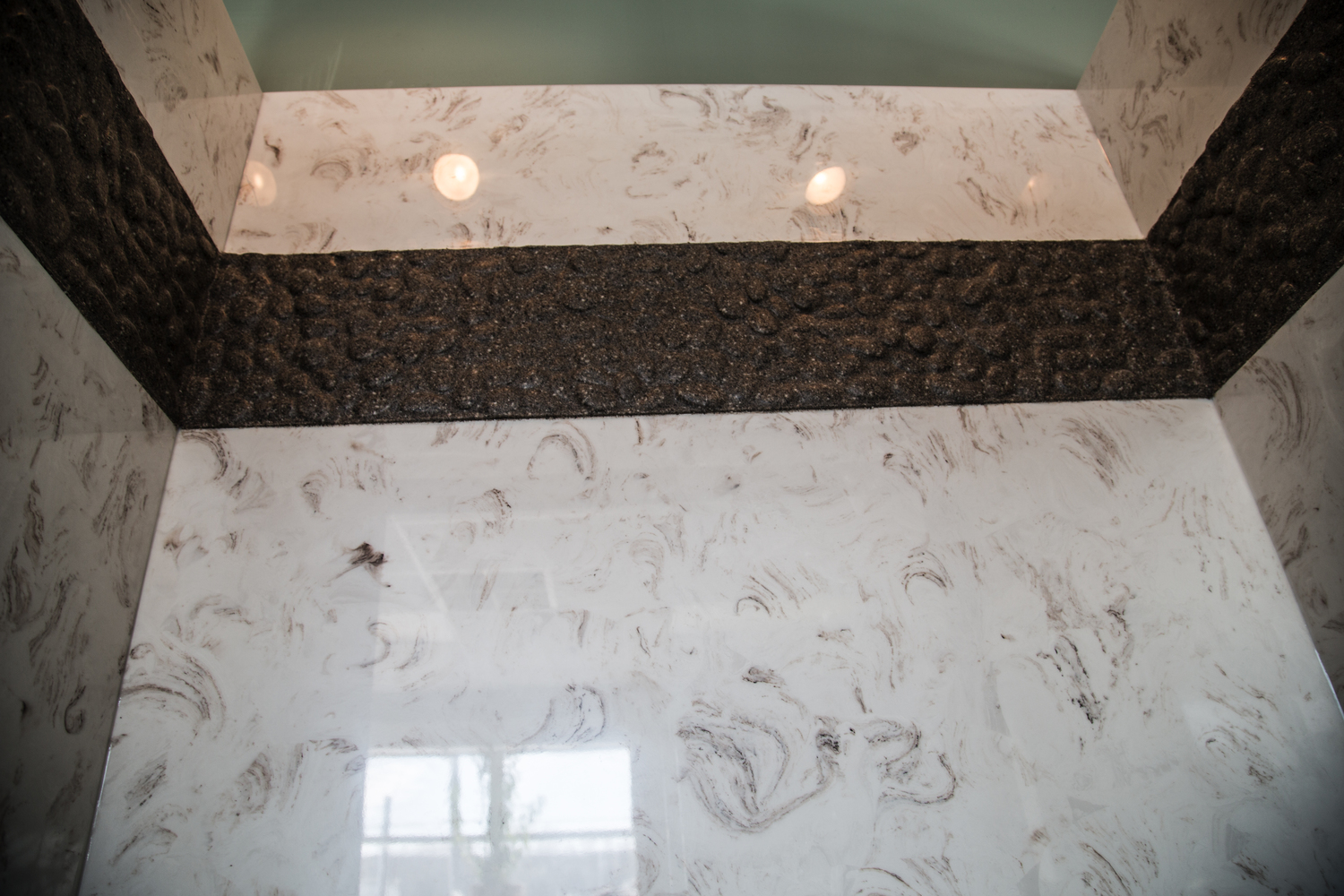 With different people looking for different things in shower walls, there is no consensus on cultured marble shower walls vs. tile shower walls. Nonetheless, if you want to make sure that your money is well-spent, you should give the advice down below a look.
Take renovation into account: If time is not an issue, feel free to use whatever material you like for your shower wall. However, if your renovation schedule is tight, it's strongly recommended that you go for cultured marble. Unlike tile, there is no need to set up individual pieces as you build cultured marble shower walls. Also, by choosing cultured marble, you could do away with the grouting which saves time.
Think about the maintenance: No matter what material you use, you still have to keep an eye on the shower walls to keep them in good condition. That being said, if you lack the patience for dedicated maintenance, you should consider selecting tile for your showers. All in all, when the setup process concludes, tile shower walls require little care from homeowners. Moreover, it's a breeze to repair/replace damaged tiles of walls in the showers in times of need.
Keep cost in mind: In the case that you have money to spend on the renovation of your bathroom, you should go for high-end tiles. On the other hand, if your budget is limited, it's widely advised that you stick to entry-level tiles and cultured marble.
FAQs
How should I repair damaged shower walls?
The characteristics of shower walls tend to change from case to case so an assortment of repair options exist. For small-scale damages, you could use epoxy resin to restore the appearance of shower walls. Still, if the extent of the damages is significant, you have to resort to more elaborate alternatives which sometimes involve removing sections of shower walls. Of course, if you lack confidence, you always have the choice of calling in the professionals.
What is the average lifespan of shower walls?
Several factors affect how long shower walls would hold together following installation but usually, they could stand for at least a decade in normal settings. It's suggested that you check up on the walls of your shower every now and then to address trouble before they manifest.
Do I have to reseal my shower walls?
Assuming that you use tile for your shower walls, you have to reseal them periodically to keep water out. There is no need to reseal the shower walls if you use cultured marble though.
Hi, I am Matthew Thompson.  I have a special love of repairing house and taking care of my small garden. From 2015, I decided to write more about home improvement, repairing – fixing anything in a common house to help people understand & know how to upgrade their own one. With 7 years working in writing for home & garden, I am really happy if any one could drop a comment about my knowledge.
It could be not correct in your case but if you let me know, I am willing to update my article with your recommendation.
Enjoy!