To make a wise investment while shopping for sinks, people must take numerous things into account and material is one of the most critical considerations. Presently, sinks incorporate a wide range of materials with variable characteristics that let them excel in multiple settings. Still, owing to their performance, fireclay and cast iron tend to occupy the top positions of reviews of sink materials. Needless to say, many discussions surrounding the material of sinks for residences cover the same topic: fireclay vs. cast iron.
An Analysis Of Sink Materials 
Unable to decide between fireclay and cast iron for the material of your sinks? In that case, you have come to the right place. This article could tell you all the information about the materials including how they fare against each other.
Fireclay And Cast Iron: Overviews 
Fireclay: To put it plainly, fireclay is a type of clay molded at high temperatures then left to dry. As a result of the molding process, fireclay possesses excellent heat resistance and that is a big plus on occasion. In addition to that, fireclay looks good in an assortment of arrangements so fireclay fixtures should blend in instead of standing out inside households. Last but not least, available at reasonable prices, fireclay fits the shopping budgets of the majority of homeowners
Cast Iron: Being an alloy of iron and carbon, cast iron is well-known among homeowners for its durability.  Even after experiencing impacts that may have caused extensive damages to the structural integrity of any other materials, cast iron still remains intact. That is why following the conclusion of installation, fixtures made from cast iron would hold together for many decades. Also, it's worth pointing out that cast iron comes with porcelain enamel coatings so the risk of corrosion is low.
A Comparison Of Materials Of Sinks 
Fireclay 
Cast Iron
Longevity
Winner
Aesthetics
Draw
Installation
Winner
Maintenance
Draw
Cost
Winner
Longevity
Generally speaking, sinks that integrate fireclay as well as cast iron should stay in good condition for quite some time. That being said, regarding the amount of abuse the sinks could handle before failing, those made from cast iron outmatch their fireclay counterparts. That means cast iron sinks last longer than fireplay ones in most of the cases. Unsurprisingly, people who care about the longevity of fixtures they pick up deem cast iron to be the winner in fireclay vs. cast iron.
Aesthetics
In layman's terms, the traditional look of cast iron sinks match residences that have classic interior layouts. Besides that, the variety of colored coatings on the surface of cast iron sinks facilitates the adaptation process too. About fireclay sinks, since models on the market also come in all shapes and sizes, finding ones that fit specific themes is a walk in the park. It's noteworthy that the modern appearance of fireclay sinks often excels in contemporary households though.
Installation 
Different models have different installation steps but usually, the setup process of cast iron sinks is more tedious than that of fireclay ones. For instance, due to the weight, homeowners must spend a lot of time and effort to get cast iron sinks into position. Additionally, cast iron sinks require more supports than fireclay ones to stay in place. Therefore, once it comes to ease of installation, fireclay is the one that comes out on top in fireclay vs. cast iron.
Maintenance 
Fireclay and cast iron sinks have unique maintenance demands that people have to address to keep them in top shape. For fireclay, staining is an ever-present threat so homeowners have to clean sinks from time to time. In the case of cast iron, the coatings may be damaged as time passes by which increases the risk of corrosion. Thus, between fireclay and cast iron, it's safe to say that no one is superior to the other in terms of maintenance.
Cost 
Nowadays, sinks reach the market across the price points so homeowners have a number of choices regardless of their wallet. However, modern models that incorporate fireclay tend to cost more than those made from cast iron. On average, cast iron sinks for residences cost between $300 and $600 while the price of fireclay models ranges from $600 to $1,200. Naturally, people that cannot spend big bucks on fixtures during home renovations rate cast iron above fireclay.
How To Choose Between Fireclay And Cast Iron: Hints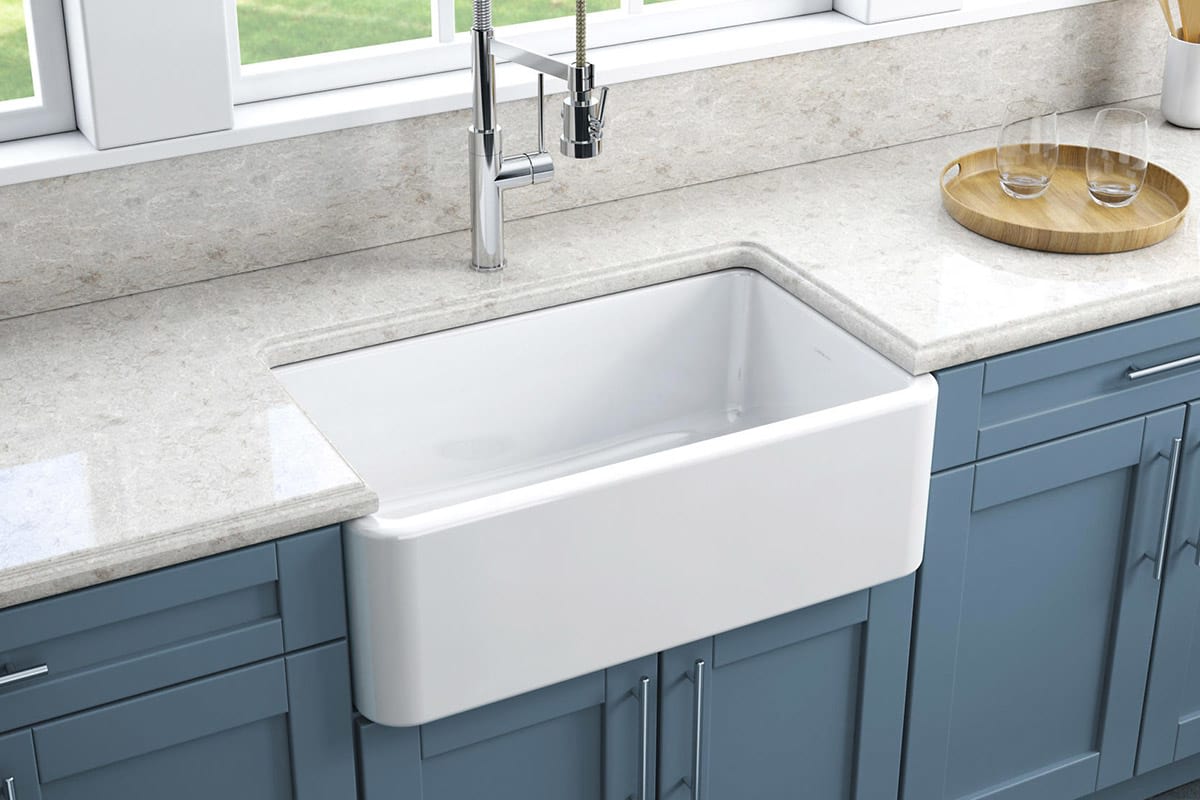 All in all, the fact that preferences change from person to person means homeowners have conflicting opinions about fireclay vs. cast iron. Nonetheless, if you wish to make the right call, it's widely advised that you read these suggestions.
Think about the kitchen: In the case that your kitchen could accept all sorts of sinks, feel free to buy whatever modes you like. However, if your kitchen requires tough sinks that could withstand rough use, it's strongly recommended that you prioritize cast iron models.
Keep layout in mind: The interior of your house allows you to maneuver fixtures without much difficulty during installation? Then it's a good idea to keep an eye out for cast iron sinks. On the other hand, if you have a hard time getting fixtures into position, go for fireclay models to save yourself a headache.
Take budget into account: If you only plan to just a few sinks, there is no need to worry too much about the price gap between fireclay and cast iron. However, if you have to pick up multiple sinks but your shopping budget is tight, stick to cast iron to save some bucks.
Top-Rated Fireclay And Cast Iron Sinks 
With different people looking for different things, everyone cannot reach a consensus about fireclay vs. cast iron. Still, regardless of which material you choose, you must keep an eye for the models down below
Fireclay 
Bocchi Classico 1138-001-0120: Versatile and flexible, Bocchi Classico 1138-001-0120 works well in quite a few situations. Thanks to the apron-front design, the Bocchi sink is able to keep splashing to the minimum which is handy.  In addition, with a temperature limit of 2,000 degrees Fahrenheit, Classico 1138-001-0120 rarely gets damaged by boiling cookware. Lastly, by taking advantage of the glazing technology, Bocchi Classico 1138-001-0120 decreases the odds of staining.
Kraus Turino KFR1-33GWH: Engineered to be reversible, Kraus Turino KFR1-33GWH allows people to install it with either a flat apron or a rounded one. Because of that, Turino KFR1-33GWH is going to match traditional as well as contemporary interiors. Aside from that, since the sink made by Kraus features a solid core construction, it's capable of withstanding everything people throw at it. Finally, on arrival, Turino KFR1-33GWH is accompanied by a lifetime warranty that brings people peace of mind.
Barclay FS30: Boasting an aesthetically pleasing profile, Barclay FS30 supplements themes of the interior instead of creating contrasts. Owing to the straightforward setup process, homeowners need mere moments to install the sink from Barclay. Moreover, after installation concludes, FS30 is going to the day it fails without requiring a lot of attention. Therefore, with Barclay FS30, people may spend less time on sink maintenance and more time on more pressing matters.
Cast Iron 
Kohler Whitehaven K-5827: Despite its plain appearance, Kohler Whitehaven K-5827 is a well-made sink that rarely lets homeowners down. Created with a slope toward the drain, Whitehaven K-5827 reduces water pooling. Also, the sink from Kohler incorporates an offset drain that increases available space inside and underneath the sink. Besides that, Kohler Whitehaven K-5827 is inexpensive as well so there is no need to cut back spendings to pick it up.
CecoSinks Dockweiler 768-4-20: Put together with an emphasis on convenience, CecoSinks Dockweiler 768-4-20 earns a shower of praises from sink reviews. Usually, people could set up the CecoSinks sink in a matter of minutes and that helps a lot. Furthermore, the maintenance of Dockweiler 768-4-20 is a breeze so keeping it in good condition is a piece of cake. Noteworthily, to reassure homeowners, CecoSinks backs its sink with a limited lifetime warranty that covers manufacturing defects.
American Standard 77DB33223.308: Possessing a combination of double-bowl design and three-hole faucet layout, American Standard 77DB33223.308 is a good match for multiple kitchen tasks. Interestingly, since 77DB33223.308 retains heat in use, it guarantees effective and efficient soaking, washing, etc. Aside from that, the sink made by American Standard features a non-porous enamel surface. Thus, cleaning  American Standard 77DB33223.308 is child's play.
Hi, I am Matthew Thompson.  I have a special love of repairing house and taking care of my small garden. From 2015, I decided to write more about home improvement, repairing – fixing anything in a common house to help people understand & know how to upgrade their own one. With 7 years working in writing for home & garden, I am really happy if any one could drop a comment about my knowledge.
It could be not correct in your case but if you let me know, I am willing to update my article with your recommendation.
Enjoy!