Modern garages come in all shapes and sizes but for the average residence, a 24×24 garage is more than enough in most of the cases. Possessing excellent adaptability, 24×24 garages could meet a wide range of demands of homeowners nowadays. That being said, like other home improvement projects, building a garage involves a number of resources which is why people have to make several calculations. Since everything comes down to money, "how much does it cost to build a 24×24 garage?" is one of the questions that attract special attention
Breakdowns Of The Cost Of Building Garages
Plan to build a 24×24 garage but don't know much about the expenses that you need to deal with?  In that case, you have come to the right place. This article can tell you all the information that you must keep in mind regarding the cost of building garages.
Permit 
Once it comes to building garages these kinds of days, applying for a building permit is the first and foremost task. You should be able to figure out the condition for such a permit by paying a visit to the local municipality office. The cost of a building permit changes between areas but it could be as low as $150 and as high as $1,600. Remember that the processing of a permit may last weeks, therefore, feel free to use the time to handle other issues.
Material
In terms of material, while building a garage, you need to take into account five features:
Foundation
Walls
Roof
Frames
Insulation
Foundation
To put it plainly, the foundation of a garage dictates the stability of the structure so you have to be careful as you choose material. For your information, the foundation of today's garage usually incorporates concrete slabs reinforced with rebar. At the moment, the price of concrete slabs ranges from $5 to $15 per square foot, depending on the supplier. All in all, the foundation of a 24×24 garage may cost you around $3,500.
Walls
Nowadays, garages utilize all sorts of walls which means the choice of material for the walls affects the cost of building garages. For instance, if you elect to go with finished drywall for your garage, you need to pay between $11 and $30 per square foot. Of course, you can always leave the walls of your garage unfinished and save a couple of bucks. However, unfinished walls tend to be vulnerable to damages caused by moisture.
Roof 
In the case that you don't have unique requirements, you could select a standard roof made from asphalt or metal for your 24×24 garage. Such a roof should cost you approximately $5,000 and it's going to hold together well as time passes by. If you care about aesthetics, you may pick a tiled roof but you need to pay five times as much as a standard roof (≈$20,000). The price of a slate roof is even higher since it rarely drops below $24,000 so it's a good idea to think about your wallet.
Frames 
The frames of garages play a key role in supporting the walls and the frames, hence, you must give them some thought. To frame a 24×24 garage, you have to spend from $5 to $13 per square foot so the total amount approaches $5,100. It's worth pointing out that you don't need to worry too much about frames if your garage integrates cinder block/concrete walls. In that scenario, it's possible to do away with the frames and cut down expenses.
Insulation 
Generally speaking, the garage is not a part of the living space of modern households. Nonetheless, you still have to keep the temperature inside your garage at reasonable levels to protect the stuff that you put in there. That is why you need to consider insulation while tackling the "how much does it cost to build a 24×24 garage?" question. The price of insulating a 24×24 garage varies between $1,000 and $3,000 but for good measure, you should stick to qualified contractors.
Doors 
Garages need at least one main door and if necessary, people can set up a number of side doors. The price of a low-end garage door is $500 and a high-end one may cost you up to $5,000. Today's doors utilize a lot of designs, colors, materials, … so choose whatever suits you most. You would be able to reduce the expenses that go into doors assuming that you manage to handle the installation on your own.
Windows 
From lighting to ventilation, windows influence quite a few characteristics of garages and that means they require consideration. The cost of the average window for garages is $300 but it's going to increase if you desire elaborate patterns, decorative frames, strengthened glass, etc. You also have the option for skylights but you have to add about $125 more into the final expense for each one. Many suppliers include labor into the cost so you don't need to bother with installation of windows.
Miscellaneous 
If you need electricity to use power tools, set up lights and so on in your garage then prepare to spend between $1,000 and $4,000. In addition to that, it may be good to have running water and the cost of plumbing ranges from $400 to $1,800. Want to stay comfortable as you work in the garage during season changes? In that case, you should invest around $3,000 into a HVAC (Heating, Ventilation, and Air Conditioning) unit.
Budgeting For Contingency: Advice 
Using the numbers above, you could come up with a close estimate for the "how much does it cost to build a 24×24 garage?" question. That being said, price fluctuates from time to time and it's not unheard of for expenses to pop up out of nowhere. Hence, as you put together a budget for the building of your garage, you must set aside some money for contingency. There is no fixed amount but 15% of the estimate is sufficient in most of the cases.
FAQs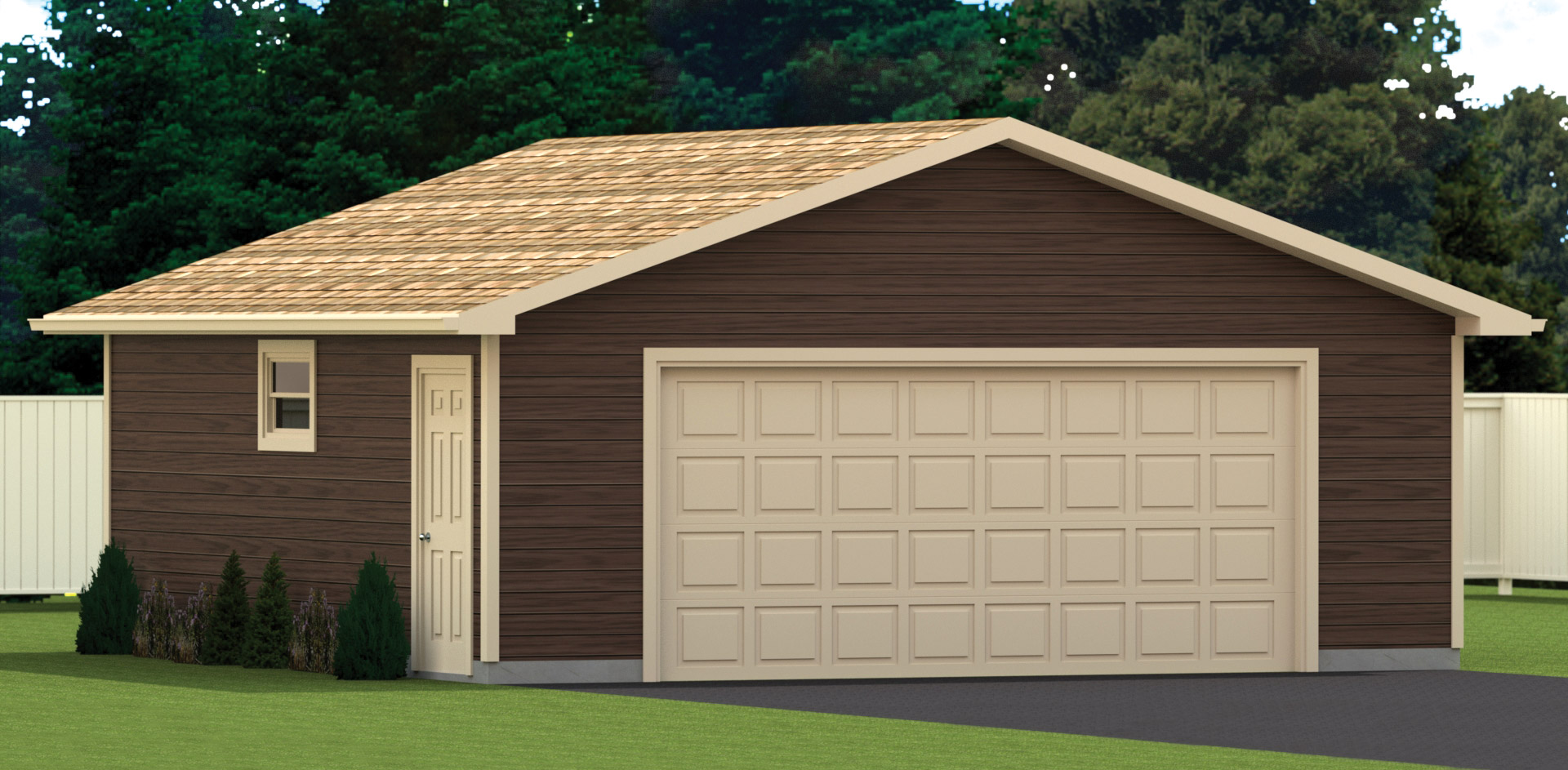 Which ones come out on top in attached garages vs. detached garages?
Compared to their detached counterparts, attached garages require less material and labor so they prove popular among cost-conscious homeowners. If you opt for an attached garage instead of a detached one, you could cut down the building cost by as much as 15%. However, attached garages have a couple of requirements so not every residence is compatible with them. It's widely advised that you consult with your contractor before building an attached garage.
Is it possible to expand garages following completion? 
Overall, your garage is a structure so you could expand it in times of need. Nonetheless, to expand your gragrege, you have to go through the same ordeal as building it. Therefore, it's best to take into account potential requirements in the future and build your garage up to specs in the first place. By doing so, you could avoid a lot of hassles including permit application, budget calculation, …
How do I keep my garage in top shape?
To ensure that your garage remains in good condition over time, you should conduct inspections every now and then. That is going to let you address leaks, exposed wires, damaged chains and so on before problems manifest. Moreover, in the case that you spill something inside the garage, take care of the mess at once. Diligent cleaning not only keeps the garage in top shape but also minimizes the odds of accidents.
Hi, I am Matthew Thompson.  I have a special love of repairing house and taking care of my small garden. From 2015, I decided to write more about home improvement, repairing – fixing anything in a common house to help people understand & know how to upgrade their own one. With 7 years working in writing for home & garden, I am really happy if any one could drop a comment about my knowledge.
It could be not correct in your case but if you let me know, I am willing to update my article with your recommendation.
Enjoy!