Once it comes to renovating the kitchen in modern households, everything counts and the sink is not an exception. Nowadays, homeowners could choose from a wide range of kitchen sinks but most settle for either porcelain or stainless steel models. Being time-tested choices for the material of sinks in residences, porcelain as well as stainless steel rarely fail to please. Still, it's worth pointing out that with different people looking for different things, opinions vary about porcelain vs. stainless steel sink.
Breakdowns Of The Sinks
Unable to make up your mind between porcelain and stainless steel for sinks of your kitchen? Then this article is going to be of use to you. Down below is everything that you must keep in mind regarding the materials of sinks.
Porcelain And Stainless Steel: An Analysis
Porcelain: As a non-porous material, porcelain is able to handle extensive exposure to water, moisture and so on with relative ease. Because of that, with porcelain, people don't have to bother with mold prevention which saves a lot of time and effort. Additionally, since porcelain is aesthetically pleasing, it could match a multitude of themes inside households. Porcelain remains vulnerable to staining though so to preserve its appearance, homeowners need to clean it regularly.
Stainless Steel: Thanks to its attributes, stainless steel outmatch many other sink materials in terms of strength. Even in challenging conditions, stainless steel won't chip, crack and peel so it holds together well over time. Moreover, as the name suggests, stainless steel is good at resisting staining and that leads to simple maintenance. That being said, the weight of stainless steel means moving it around is a bit tedious.
Insights Into The Sinks
Porcelain
Stainless Steel
Look
Draw
Durability
Winner
Installation
Winner
Maintenance
Winner
Price
Winner
Look
While quite a few models integrate a combination of materials, differences exist between porcelain and stainless steel sinks. Slim and sleek, porcelain sinks usually match households that pack traditional interiors. On the other hand, with well-defined edges and lines, stainless steel sinks feature a contemporary profile that fits the majority of today's residences. Thus, it's strongly recommended that you take your house into account to pick up suitable sinks for the kitchen.
Durability
All in all, if you look after your sinks, they should last for decades no matter what material they use. Still, once it comes to durability, stainless steel sink is the one that comes out on top in porcelain vs. stainless steel sink. For most of the time, physical impacts that would chip porcelain in a blink of an eye could barely make a dent on stainless steel. Also, stainless steel is capable of withstanding an assortment of chemicals so you have more choices for cleaning solutions.
Installation
The setup process changes from model to model so it's important to check out the owner's manual in advance. However, it's noteworthy that porcelain weighs a bit less than stainless steel so you need to take some time to think. If you don't have to do much to move sinks into position, feel free to select whatever materials that you like. Otherwise, it's widely advised that you stick to porcelain sinks for smooth installation.
Maintenance
Since porcelain and stainless steel sinks require minimal care to stay in top shape, there is no need to worry too much about maintenance. Nonetheless, on average, you should pay more attention to stainless steel than porcelain. To keep porcelain in good condition, you have to clean it from time to timer to prevent staining. Also, as porcelain cannot handle abrasive chemicals, you must be thorough while choosing cleaning solutions for it.
Price
Generally speaking, entry-level porcelain and stainless steel sinks tend to cost around several hundreds of dollars. That being said, the price of high-end porcelain sinks stays around $1,500 while their stainless steel counterparts could go as high as $2,000. Hence, in the case that you just need a couple of basic sinks, you may go for either porcelain or stainless steel. Still, if you desire models of quality, you would be able to save a couple of bucks by selecting porcelain sinks.
Maintenance Of Residential Sinks: Advice
There is no consensus among homeowners about the winner in porcelain vs. stainless steel sink. However, everyone agrees that to get the most out of sinks, it's essential to give maintenance some thought.
Address food residues at once: If you let food residues like greases, sauces, juices and others collect in the sinks, you eventually face various issues from odor to sanitation. Thus, it's a good idea to get rid of residues whenever you spot them in the sinks. One way to do so is to keep the faucet open until water flushes away all food residues in the sinks down the drain. That is often sufficient to keep the sinks clean.
Pick up some bottom grids: By equipping your sinks with bottom grips, you could protect them from multiple damages. The less damages your sinks sustain in the course of operation, the more pleasant they look as time passes by. In addition to that, with the odds of damages reduced, you don't have to set aside a budget for sink repair. The bottom grids themselves cost little too, thus, squeezing them into the spending budget is child's play.
Be cautious around cleaning solutions: To clean standard sinks, a mixture of soap and warm water is adequate. If you need to resort to cleaning solutions to remove stubborn stains, always read the ingredient list beforehand. The last thing you want to do is to damage your sinks by mistakes as you clean them with cleaning solutions. Contact the manufacturer if you have questions about the effects of chemicals on sink materials.
FAQs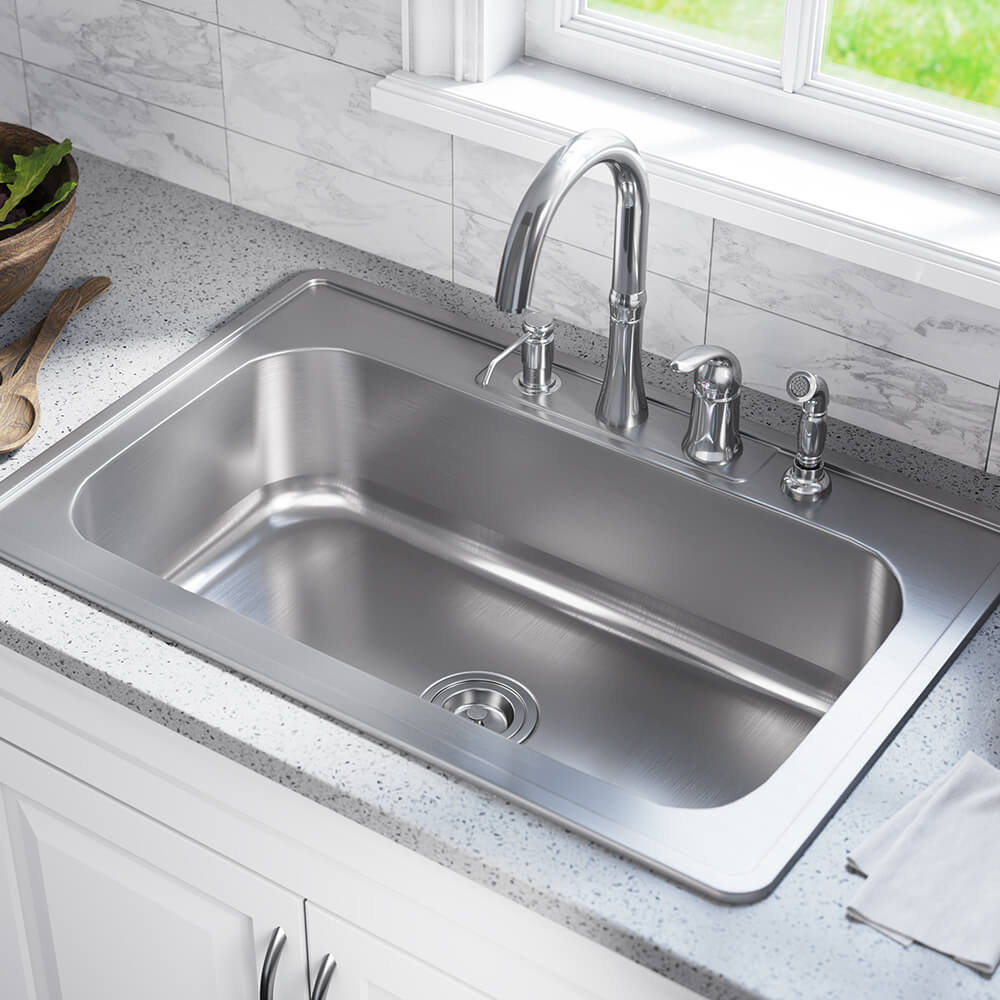 Is it normal for sinks to gurgle?
Gurgling noise in sinks is a tell-tale sign of blockages. For your information, water would flush down the drain in the usual cases. Still, when blockages form, water drains slowly which leads to gurgling noise as air bubbles try to escape through any spot available. Overall, if you notice your sinks gurgling, you should consider blockages to be the culprit then take proper measures to restore the normal flow of water.
How do I keep odor under control?
Don't close the faucet until you manage to flush all food residues down the drain. Furthermore, from time to time, throw several lemon peels into the sinks to regulate the smell coming out from them. Nonetheless, if you suspect the sewage is responsible for the situation, get a plumber to check your sinks as soon as possible. Prolonged exposure to sewage gas could cause a number of heath issues so don't take any chance.
Could I repair damaged sinks?
For damages that affect the finish of sinks, you should be able to conduct repairs without much difficulty. However, if the damages compromise the structural integrity of your sinks, you have no choice but to grab sink replacements.
Hi, I am Matthew Thompson.  I have a special love of repairing house and taking care of my small garden. From 2015, I decided to write more about home improvement, repairing – fixing anything in a common house to help people understand & know how to upgrade their own one. With 7 years working in writing for home & garden, I am really happy if any one could drop a comment about my knowledge.
It could be not correct in your case but if you let me know, I am willing to update my article with your recommendation.
Enjoy!